I don't have time to do strategic planning, even if I did, it will just collects dust on a shelf.

Are you experiencing any of the following?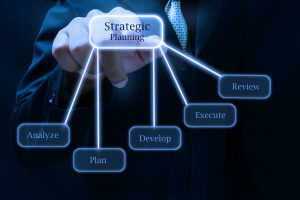 Extremely busy with lots of fire-fighting (constantly solving problems)
Don't have the time to reflect of what went well and what did not
Different departments competing or fighting with each other
Inadequate resources
Plan but don't have time to implement
Missing deadlines
Difficulty keeping or even remembering commitments
Lots of activity with not enough to show for it
It's much too easy to get caught up in the day to day activities of running a company.  We all know periodically taking time to step back to objectively reflect on what's going well, what's not going well, and determine strategically and proactively what needs to be done next is critical for long term success. Determining this plan provides focus for your company and your people.  Everyone on the same page, going the same direction.
In a recent study of the top challenges that CEOs' face, it was reported that the number one concern was effective execution of their strategic plan.
Employees at all levels of your company need to then be able to understand and interpret in their day to day decision making, how to execute the company's strategic plan, rapidly and consistently. By aligning strategic priorities, cultural values, behaviors and vision for the future throughout the company, all employees are on the same page, working in the same direction.  This focus informs decision making processes, allowing for more effective decisions. It drives higher performance, while at the same time improving employee engagement.
Organizational Dynamics combines in-depth consulting and coaching with the CEO and the leadership team to provide support for efficient, cost effective, results-oriented strategic planning. Providing straight forward, action-oriented steps to execute that plan, ensures that the investment in the strategic planning process was well spent.
As a strategic partner and trusted advisor, we work with you and your team to provide the right tools, skills and perspectives to rapidly internalize your vision, translating this into decisive and consistent action.  This allows your company to proactively anticipate challenges, more effectively deal with setbacks, while ensuring successful day to day activities.  It provides more bandwidth to take advantage of new opportunities, leading to higher levels business results and successes. Tangible results are seen immediately, transforming your company into the Purpose-driven, People-oriented, Process-efficient, Profit-successful organization it was meant to be.
Learn more about how Organizational Dynamics Consulting can help you achieve the highest levels of profitability and performance. Contact us for a free consultation at info@orgdynconsulting.com or 407-681-6300.